You've probably seen it on Instagram, a decadent breakfast served on a floating tray in your private pool. This trend, appropriately called "floating breakfast," is the latest luxury hotel offering popping up around the world.
The tray can includes everything that you could find at the restaurant's buffet breakfast including waffles and pancakes, eggs, pastries, fruit, or even wine. A cup of fresh juice of your choice as well as an abundance of tropical fruits like dragon fruit, passion fruits, papaya, jackfruits, etc will add a healthier touch to your meal.
Bali is a front runner when it comes to floating breakfasts on the water, but what about for the rest of the word. We decided to bring you fantastic roundup of gorgeous resorts and hotels all over the world, and not focus only on Bali.
Ready to join the Insta elite with your own floating breakfast snap?  Check the exact locations on our interactive map below.
Map of places with floating breakfast around the world:
Here are our top 10 luxury hotels you can sample the floating Breakfast in every part of the world in no particular order!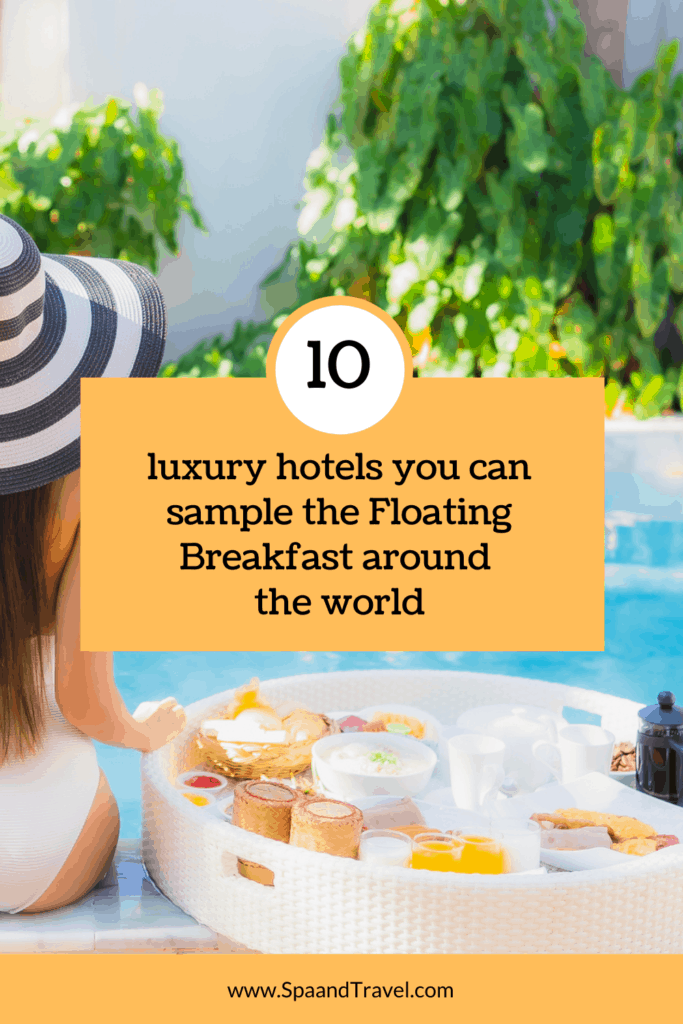 1. Dana Villas & Suites – Greece
Polished cave-style hotel with a pool with caldera views, luxury spa, and sunset views over the caldera and volcanoes. New Infinity Suites section all have private, heated, outdoor, infinity pools of some type (cave pools, river pools, or open-air pools).
A "floating breakfast," served directly at the suite's private pool. It's no surprise that the hotel is a popular destination for proposals, honeymoons, and especially weddings.
Age restrictions: The hotel welcomes guests ages 16 and up.
Website: danavillas.com
Location: On the caldera in the heart of Firostefani village, Firostefani, Greece
2. LUX South Ari Atoll Resort & Villas – Maldives
The Maldives is one of those places that continue to pop up on travellers' bucket lists. And for a very good reason. If you've fantasized about living a–lavish–Robinson Crusoe life on a faraway tropical island, you're in the right place. 
LUX* South Ari Atoll – 5-star beach resort is a popular choice for couples and families traveling to the Maldives. Recreational amenities at the resort include 2 infinity pools both overlook the Indian Ocean, a spa tub, a sauna and a steam room.
Start the day off with a floating breakfast in your swimming pool before jetting off to a sandbank for a picnic. 
Age restrictions: The hotel is family friendly. 
Website: https://www.luxresorts.com/en/maldives/hotel/luxsouthariatoll
Location: LUX* South Ari Atoll Resort & Villas is located in Dhidhoofinolhu Island.
3. The Shore at Katathani Resort – Thailand
The Shore at Katathani on Kata Noi Beach is one of the most exclusive and romantic hotels in Phuket. All of the villas feature infinity-edged plunge pools facing either the ocean or gardens, and sunken lounge areas with chaise lounges.
Celebrate your special morning with floating breakfast on the water. Experience a luxury breakfast with style in your own private pool. Rediscover the romance in Phuket's picture perfect backdrop.
 

 

View this post on Instagram

 
Age restrictions: The Shore at Katathani is adults-only resort.
Website: https://www.theshorephuket.com/the-feast/floating-breakfast/
Location: On a hillside overlooking Kata Noi Beach, about an hour's drive from the Phuket International Airport.
4. Las Ventanas al Paraiso, A Rosewood Resort – Mexico
Las Ventanas al Paraiso, A Rosewood Resort is located in Los Cabos, Mexico, where the desert meets the sea. The iconic Mexican resort captivates its guests with expansive suites, a world-class spa, inspired cuisine and an intoxicating ambiance. The lazy river is not to be missed. As you float effortlessly down the waterway, you'll enter a grotto-like tunnel and embark an all-enveloping sensorial journey, complete with music and colorful works of art. Juxtaposing elements of fire and water, the tunnel invites you to relax, connect and linger. There is even a Jacuzzi midway through to heighten the experience.
Villa guests of the Five-Diamond resort can start the day right with a floating breakfast tray filled with dishes to satisfy any craving, from bowls of luscious fresh fruit to fresh pastries, bread, eggs Benedict and more, with a bottle of bubbly available for the ultimate indulgence.
 

 

View this post on Instagram

 
Age restrictions: Family friendly. A kids' club is available for families.
Website: https://www.rosewoodhotels.com/en/las-ventanas-los-cabos
Location: Las Ventanas al Paraiso, A Rosewood Resort is located in Los Cabos, Mexico
5. Anantara The Palm Dubai Resort – Dubai
Located on the manmade Palm Jumeirah archipelago, Anantara The Palm Dubai Resort is an idyllic Thai-inspired escape, just 30 minutes from the city center. Anantara The Palm Dubai Resort boasts 400 metres of private shoreline & surround views of the Arabian Gulf. 
Floating pool tray starting from $68. Enjoy culinary delicacies with a sophisticated floating tray served in the privacy of your own Beach pool Villa. Available for One Bedroom and Two Bedroom Beach Pool Villa guests only.
 

 

View this post on Instagram

 
Age restrictions: Family friendly. 
Website: https://www.anantara.com/en/palm-dubai/offers/floating-pool-tray
Location: Located on the world-famous Palm Jumeirah just off the coast of Dubai.
6.The Tree House Resort – India
Situated around 30 minutes' drive from the pink city of Jaipur in Rajasthan, the Tree House Resort is the largest resort in the world of its kind. It's located at Nature Farms in the Syari Valley. The accommodations are divided into a number of luxury "nests". Some even have tree trunks running through them which will make your stay a happening experience. The best part is that it is tucked away from the hustle bustle of the city so it will be rejuvenating.
 

 

View this post on Instagram

 
Age restrictions: Family friendly. 
Website: https://www.treehouseresort.in/
Location: Situated around an hour's drive from the pink city of Jaipur in Rajasthan
7. Chalet al Foss Alp Resort – Italy 
Sitting in luxurious surroundings, Hotel Chalet al Foss is the perfect entrance to the mountainside, where nature is a continuous evolution of fantastic features. The views extend endlessly to the rising of the Presanella Glacier. The Al Foss also has a wellness centre where guests can relax in the indoor pool, sauna and steam bath.
Floating breakfast starts from € 130 for 2 people. The most delicious breakfast on the water served in the infinity pool with a breathtaking view, absolutely must have to you wish list!
 

 

View this post on Instagram

 
Age restrictions: Adult friendly hotel.
Website: https://www.hotelchaletalfoss.it/en/experience/115-floating-breakfast-2.html
Location: Hotel Chalet Al Foss is located in a tranquil area of the Val di Sole, 2 km from Vermiglio, Italy. 
8. Cocobay Resort – Antigua 
Cocobay Resort, an All-Inclusive, adult-only getaway on the sunset side of Antigua. Widely known as Antigua's most romantic and relaxing resort, Cocobay offers the perfect Caribbean atmosphere for honeymoons, romantic vacations, unique experiences, barefoot luxury and island style wellness. The resort consists of a colorful collection of pastel cottages crowning a breezy hillside, winding down to two white sand beaches and miles of turquoise Caribbean Sea. The rustic facilities feature several infinity pools and rugged terraces, blessed with some of the most dramatic ocean views on the island. 
Luxury floating breakfast on the water with breathtaking views in the Cocobay Black Rock or Romance Pool. Enjoy a selection of healthy and tasty eats and treats on a hand-made floating tray along with exclusive use of the pool of choice and Daybed.
Age restrictions: Adult-only getaway.
Website: https://cocobayresort.com/floating-pool-options/
Location: Bolans, Saint Mary's, Antigua
9. Sandals Royal Caribbean – Jamaica
Catch some rays at the beach or spend the day relaxing at Sandals Royal Caribbean – ALL INCLUSIVE Couples Only's full-service spa. 7 outdoor swimming pools are on site along with a 24-hour health club and a sauna. Spa has 6 treatment rooms including rooms for couples and outdoor treatment areas. Massages are available on the beach and in the spa; other services include facials, body wraps, and body scrubs. A variety of treatment therapies are provided, including aromatherapy and hydrotherapy. The spa is equipped with a sauna and a spa tub.
 

 

View this post on Instagram

 
Age restrictions: Couples-only resort.
Website: https://www.sandals.com/
Location: Located in Montego Bay, Sandals Royal Caribbean, Jamaica
10. Ayana Resort and Spa – Bali
Ayana Bali is a luxury resort located on the cliff top above Jimbaran. Ayana was one of the first resorts to offer the floating meal to its hotel guests, and 10 years later the unique experience is still popular.
Champagne, smoked salmon bagels, young coconut filled with exotic fruit, crab cakes and tarragon hollandaise; you wouldn't want to swim up to this beautiful lunch too vigorously, or enter the plunge pool with a splash. The signature floating brunch is exclusively for villa guests in their private pool along with a bottle of sparkling wine. All you have to do is slip into your swimwear to enjoy your floating Bali breakfast in a setting overlooking the breathtaking beauty and enjoy.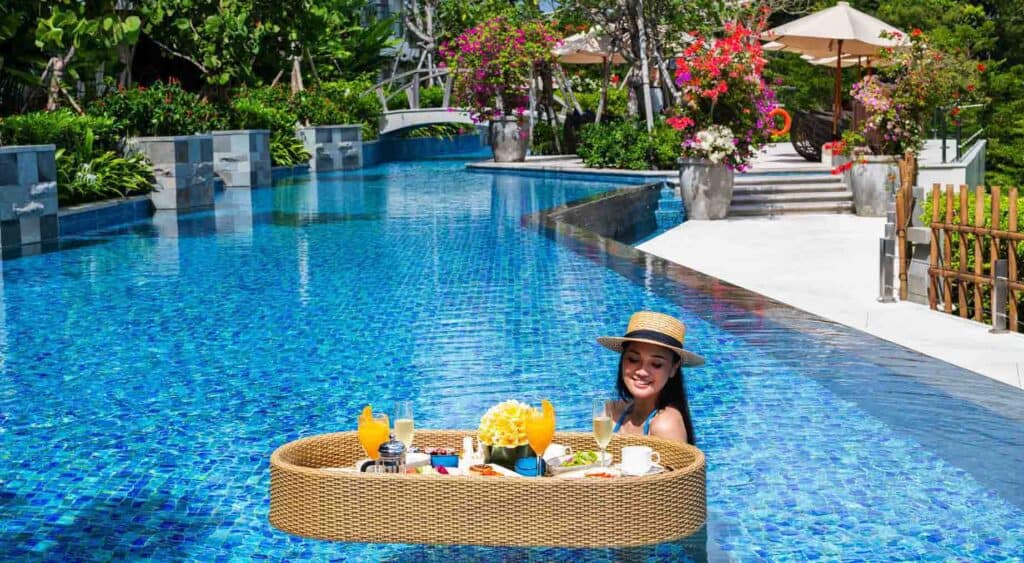 Age restrictions: Adult-only resort.
Website: https://www.ayana.com/bali/ayana-resort-and-spa/eat-and-drink/venues/floating-brunch
Location: Jimbaran, Bali
And as a bonus – DIY "Floating breakfast" Canadian Maritime edition – Halifax, Nova Scotia.
 

 

View this post on Instagram

 
And as an extra extra bonus
If you are lucky to have a pool in your house, floating trays would be an excellent addition to your summer pool party.
There are many options on Amazon you can choose from. Stand out with your next pool party with a WAHOO LIVING luxury floating tray. Bring breakfast, brunch, lunch, dinner, platters, or drinks to your guests while they lounge around in the pool.
Made from woven recycled plastic, the Viro Rattan is enviro-friendly, UV & weather resistant.