If you find yourself in Central Mexico, spending a couple days at Las Grutas de Tolantongo is a great way to relax, have fun, and capture those much sought after Instagram pics.
In this post, we will discuss everything you need to know about the Las Grutas de Tolantongo hot springs resort. We go over what to do, where to stay, prices, and how best to tour this incredible area of Hidalgo.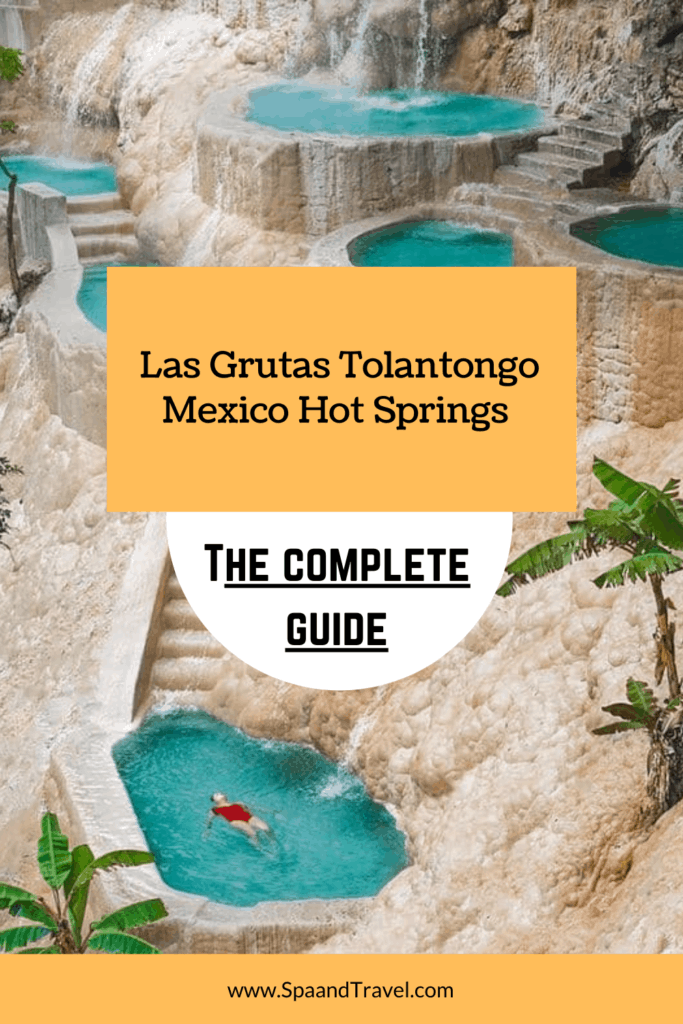 Where is Las Grutas de Tolantongo
Address: Grutas Tolantongo s/n, San Cristobal, 42370 Cardonal, Hgo., Mexico
Website: GrutasTolantongoHotSprings
Las Grutas de Tolantongo, or the Tolantongo caves, are located in the Mexican state of Hidalgo in the Tolantongo Canyon and at about 200 KM or three to four hours northeast of Mexico City in a picturesque canyon.
General Description
The park is huge and includes collection of hot spring pools, waterfalls, and a river. The pools are filled with warm, naturally mineral-infused water that's heated by the surrounding volcanic mountains. There are also caves and a tunnel to explore for a dose of adventure, a hot spring river to swim in, and a kid-friendly pool with a waterslide. If you're so mesmerized by this magical spot you'd like to plan your entire vacation around it, you can do so in one of the many hotels in the zone!
Las Grutas de Tolantongo how to get there
Getting to las Grutas de Tolantongo is very easy whether you chose to rent a car or local transportations. Let's see here below the different options.
Getting to Las Grutas de Tolantongo by car
Having or renting your own vehicle is by far the most convenient way to get to Las Grutas de Tolantongo. With your own car, you can travel on your own timetable and aren't rushed by the public bus schedule. You just need to follow the direction to Pachuca and then to Ixmiquilpan and from there you will see the signs to Grutas de Tolantongo. Once you get to the entrance you pay for your ticket (150 MXN) for one day and you continue to drive to the hotel or camping sites.
On arrival you have to pay for access tickets and parking.
Getting to Las Grutas de Tolantongo by bus
1) from the Bus terminal Norte
Take a bus (flecha roja/ ómnibus)
Cost from CDMX to Ixmiquilpan =$170 pesos . Very first bus of the day is at 6 am and arrive at 9 am.
Be sure to tell the driver to warn you at Ixmiquilpan because bus station does not look like a station. In fact, they are dropping people off at the side of the road at Ixmiquilpan.
2) you have to walk to the local bus (called combi) station near the San Antonio church. From the drop off point, you could take a combi bus ($6 pesos), but they only take you a half way which is near the local market called Mercado Morelos, so you still have to walk to the bus station from there.
3) once you found the bus station, you have two choices.
Take combi bus to Gruta Tolantongo. Cost is only 50 pesos.
Or take a taxi. Bunch of taxi drivers are waiting in front of the San Antonio Church. About 50 minutes ride of this taxi could cost $400 pesos.
Getting to Las Grutas de Tolantongo by tour company
A group tour is the most convenient — and often, most inexpensive, way to visit Tolantongo — for the reasons below:
You save money by not paying for a hotel room at one of the Las Grutas Tolantongo resorts, and returning to Mexico City the same day.
Not dealing with a rental car, insurance, gas, and driving in a foreign country makes a tour the easiest option.
Tolantongo public transportation is a bit confusing and can take about six hours — so you lose a lot of time to travel.
The tour is often less expensive than renting a car. For solo travelers who don't have others to split the car costs with, the tour is the way to go. In addition to the cost, you have the convenience of not having to deal with driving or figuring out public transportation.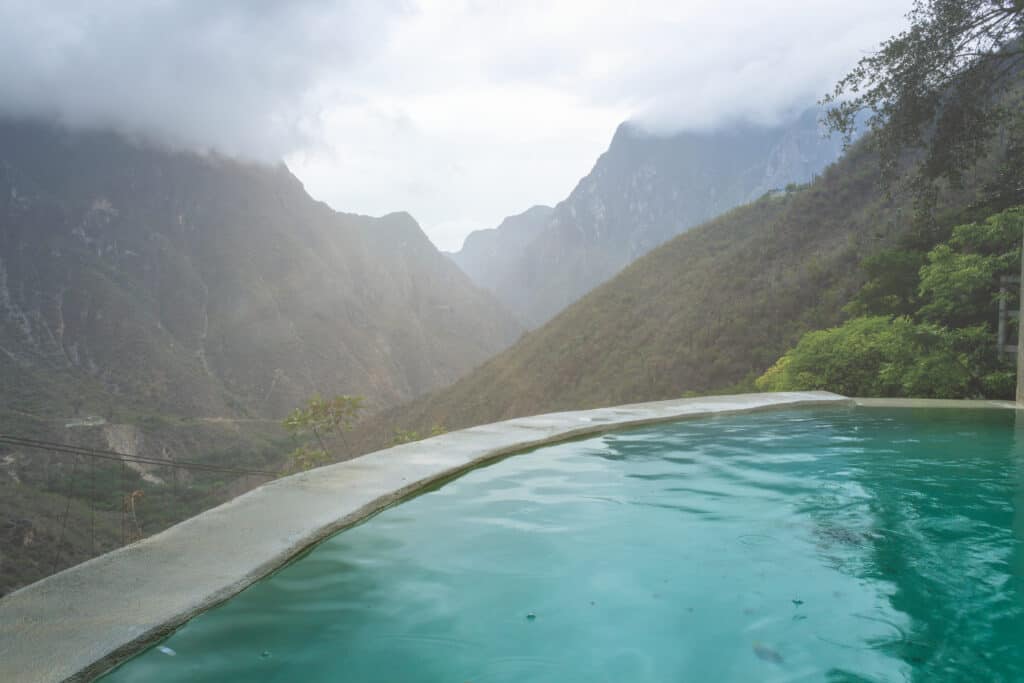 Where to stay at Las Grutas de Tolantongo
There are four hotels located inside the Grutas Tolantongo.
"La Gruta" hotel: closest to caves, tunnel and river (from 750 MXN per night per room)
"Hidden Paradise" hotel: best for natural landscape and proximity to thermal pools (from 800 per night per room)
"La Huerta" hotel: best for views of the river and surrounding mountains (from 800 per night per room)
"Molanguito" hotel: recent addition to meet demands and probably the least exciting option
Two of the hotels are open all week — La Gruta Hotel and Paraíso Escondido Hotel — and two only on the weekends — La Huerta Hotel and Molanguito Hotel. In total, there are about 300 hotel rooms at Tolantongo.
If you want to reserve a room, you need to get here as early as possible, queue, cross your fingers and hope for the best (we suggest arriving early Thursday or Friday morning — your chances will be pretty good). They all offer single and double rooms with balconies and incredible views of the surrounding countryside. None of them offer wifi or internet services and they also do not accept credit cards. In fact, all services within the park including entry are cash only, so make sure you come with enough cash to last the duration of your stay.
If you decide to camp and you have your own tent, you don't need to pay anything other than your entrance fee.
However if you don't have your camping gear, you can rent or buy absolutely everything on site. Rental fee of the tent start from 120 MXN per night ( for the smallest tent). The park offers almost every service you can possibly need — bus services, inner shuttle services (to drive you around the park since it's so big), ziplining, camping equipment rentals (like chairs, tables, grills), locker rooms…you name it. They also have blankets, inflatable mattresses, firewood, ice, pillows, and padlocks for sale in case you forget anything.
You can camp pretty much everywhere. If you rent a tent you just chose your spot and the local staff will install your tent.
There are three restaurants inside the park: El Paraiso Escondido, Las Palomas, and el Huamuchil. All three restaurants serve Mexican regional cuisine including shellfish dishes; most menu items contain meat and/or cheese so vegans be prepared to have limited options.
What To Bring
The hotels offer almost everything you could possibly need, but, here is a list of things you should bring yourself:
Cash/pesos  They don't take credit cards anywhere on the property, so bring enough cash for a hotel or campsite (if you're booking one), your Tolantongo entry fee, food/drinks, incidentals, etc.

Depending on your travel style, consider bringing $1,500-$3,000 pesos ($75-$150USD). Whatever amount you think you'll need, you might want to double it, as there's no ATMs at Tolantongo… and the closest ATM is actually an hour away.

water shoes (they'll be great for not slipping

and avoiding accidents)

snacks and water for the roadtrip
enough cash to last your entire stay
a GoPro and/or water proof phone case
a waterproof headlamp if you're curious to explore the caves
a padlock to store away your belongings at the lockers near the waterfall and caves
a book or pre-downloaded Netflix movies/TV shows to entertain you when you lack internet connection
How Much Does Las Grutas de Tolantongo Resort Cost?
Entrance Tickets: $16 for two days
Car rental + gas: $100 – $150
Parking: 20 pesos/car/day
Camping: Free, but you will need to pay for the next day's entrance ticket.
Resort Hotels: 750-1300 pesos per night (See details here)
Food: $45 – $60 for two days

Grutas de Tolantongo Map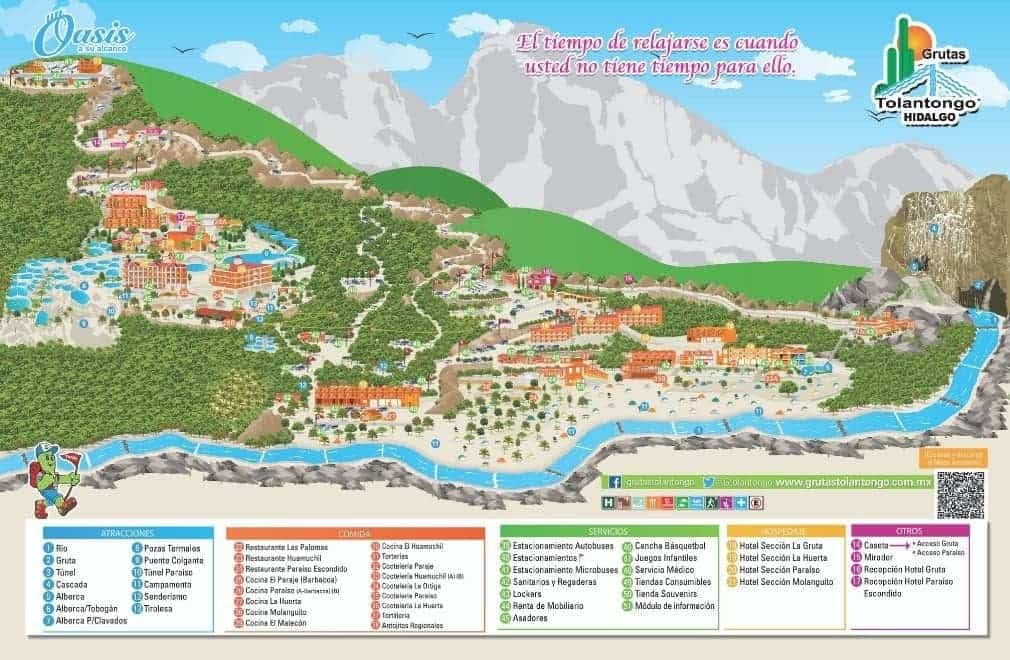 Download the full map from the official Grutas de Tolantongo website.
Things to do at Las Grutas de Tolantongo
View this post on Instagram
Hot spring pools
Opening hours – 08:00 am a 09:00 pm
We suggest waking up early to see the dawn and be one of the first to cross the suspended bridge that leads to the pools of thermal water, whose temperature is ideal in the morning.
The pools are located in the upper part of Tolantongo, while the rest of the site is closer to the base of the site. As it's a bit of a steep, rocky climb to the top, there's a shuttle van available for a small fee of about $25 pesos ($1.50USD), that you will definitely want to take up.
The thermal hot spring pools area is a collection of man-made pools that are built along the canyon slopes. Geothermally heated water seeps out from the canyon walls and is then redirected to these pools.
Compared to the other attractions, which are located at the bottom of the canyon, the Tolantongo hot spring pools are situated up top, near the rim of the canyon. This means that while you sit in the hot pools, you get great views looking out across and down into the canyon.
The thermal pools area is also THE place to get that quintessential Instagram photo. Although the pools are man-made, the colors of the water, the pool walls, and the surrounding stones and tree root systems provided for a wonderful photo opportunity.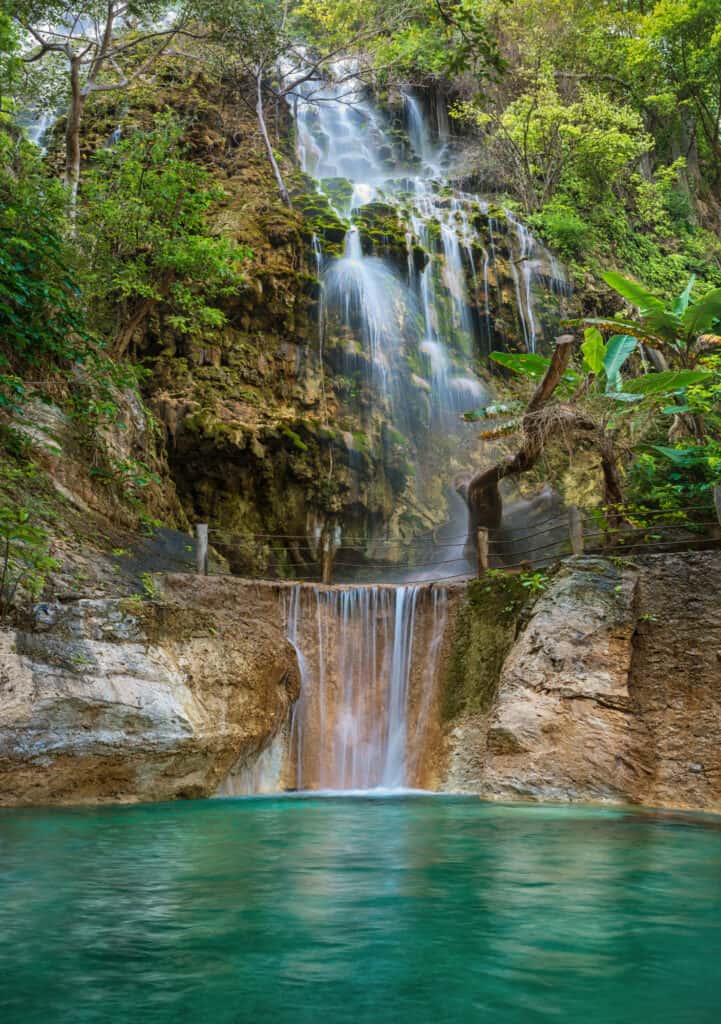 Gruta (cave), waterfalls, tunnel
Opening hours – 8:00 am a 5:00 pm
The cave and the tunnel are right next to one another.
As you get close to the cave, you'll be required to lock all your belongings into a locker as you are not allowed to take anything with you inside the cave except towel and the phone. The rent price is 50 MXN + you will need to pay another 50 MXN as a deposit. The cave is located inside a cliff which is covered in vegetation with a stunning waterfall flowing right down it. The cave is also the source of the water which flows directly down the river from it.
To enter the cave you need to walk through the waterfall. Despite all the thermal waters and hot temperature inside the cave, the water running down the cave as you enter is cold. But don't worry, as soon as you enter it'll get seriously hot so we actually appreciated this refreshing surprise.
After entering the cave you can walk through a 40 meter long tunnel which features stalactites and stalagmites. The temperature rises significantly the further in you go. The warm water is about knee high with only one part that requires you to swim a few meters across (ropes provided).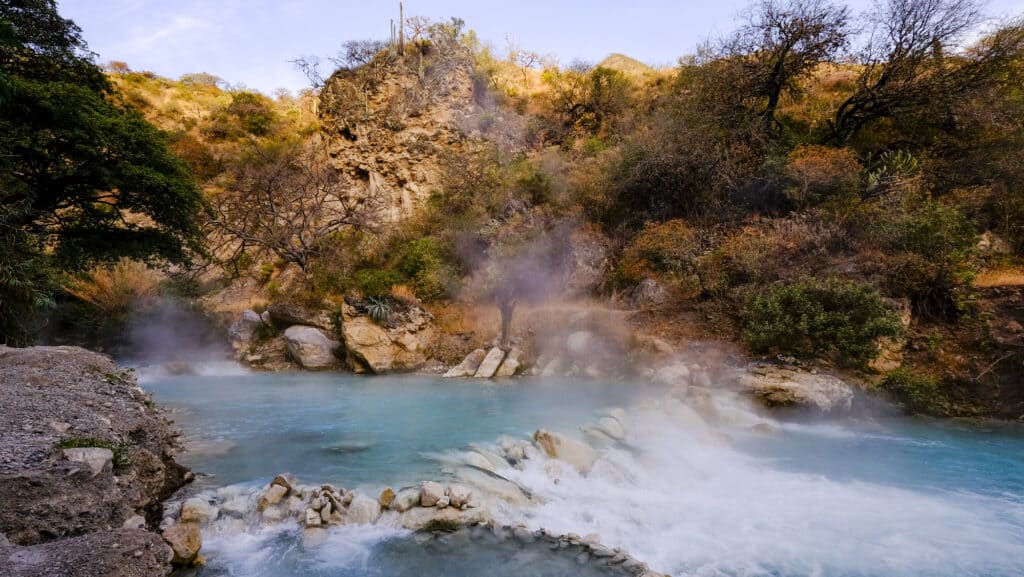 The Tolantongo River
The River Tolantongo is a result of underground water and, at the head of the canyon, it flows out into the valley below. The river is coloured due to the presence of mineral salts and is of a blue-green appearance often described as "turquoise" or "aqua" but its other amazing quality is that it is heated. Waters emitting from these rocks have been subjected to volcanic heating to a greater or lesser degree. The warm river waters are chilled to some extent by other joining cooler waters but remain at a suitable temperature for swimming. The river water passes down over a series of shallow cascades leaving many natural swimming pools. It runs all along the property marking the length of the canyon and you can take nice walk all along the banks. You can also camp by the river. You can actually camp anywhere.
View this post on Instagram
Tolantongo Zipline
The Tolantongo zipline is almost 6,200-feet-long (1,890m), and takes you over a few areas of the park. It's relatively inexpensive at just $200 pesos ($10USD).
Las Grutas de Tolantongo practical tips
There is no wifi. The place is very remote and it is hard to catch here any signal. That means not only the fact, that all the hotels are without wifi, but also that you cannot book the hotels in advance. They also don't reply to any messages. It is not to be rude, more like they just don't have a signal.
You need to pay for coming here. The entrance fee is 150 MXN per day, so if you are staying 2 nights, you still need to pay for three days. Kids under age 5 don't have to pay any fee.
Grutas Tolantongo hot springs have all the necessities. There are some shops, where you can buy a waterproof cover for your phone, you can also buy here sunscreens or water shoes. Note that if you are going to the caves, it is recommended to use biodegradable sunscreen, which you can buy just in the area. The reason for it is the fact, that caves have a relatively delicate ecosystem that shouldn't be ruined by some other bacteria.
There is also a grocery store, that is open every day from 8 am until 9 pm.
The opening times and stores differ a lot. We went there to one restaurant that was supposed to be open every day but ended up being open only one of the days that we were there.
They don't accept cards, so cash is the king here. And when you are planning to pay cash, you need to have Mexican pesos. They don't take dollars here.
As you can see, there are quite a few things to do at Tolantongo Hidalgo Mexico. If you have the time in your trip, love being in nature, enjoy venturing off the beaten path, and want to visit one of the most beautiful places in Mexico, then Tolantongo is worth visiting.