From the luxurious steam rooms at hotel spas to community centres and gyms, Vancouver offers a range of detoxifying venues. In this post we'll feature the best public saunas in Vancouver. Sauna treatments can help reduce stress, relieve depression and anxiety, and improve clarity and mental focus. During the long cold Vancouver rainy season, relaxing in a sauna is the next best thing to taking a sunny beach vacation.
There are few bathing styles that can be found in Vancouver. There is a Middle Eastern hammam, a Finnish sauna, Korean jjimjilbang and Art of Sauna a place where you can sample it all.
Of course, many yoga studios, gyms, apartment complexes and rec centres have saunas, hot tubs and steam rooms, but the atmosphere is often lacking, temperatures are often set very low for safety, and you have to bring your own towel. But accessing these facilities can be a great way to "test the waters" to see if public bathing is your thing.
Hastings Reflexology & Sauna in Vancouver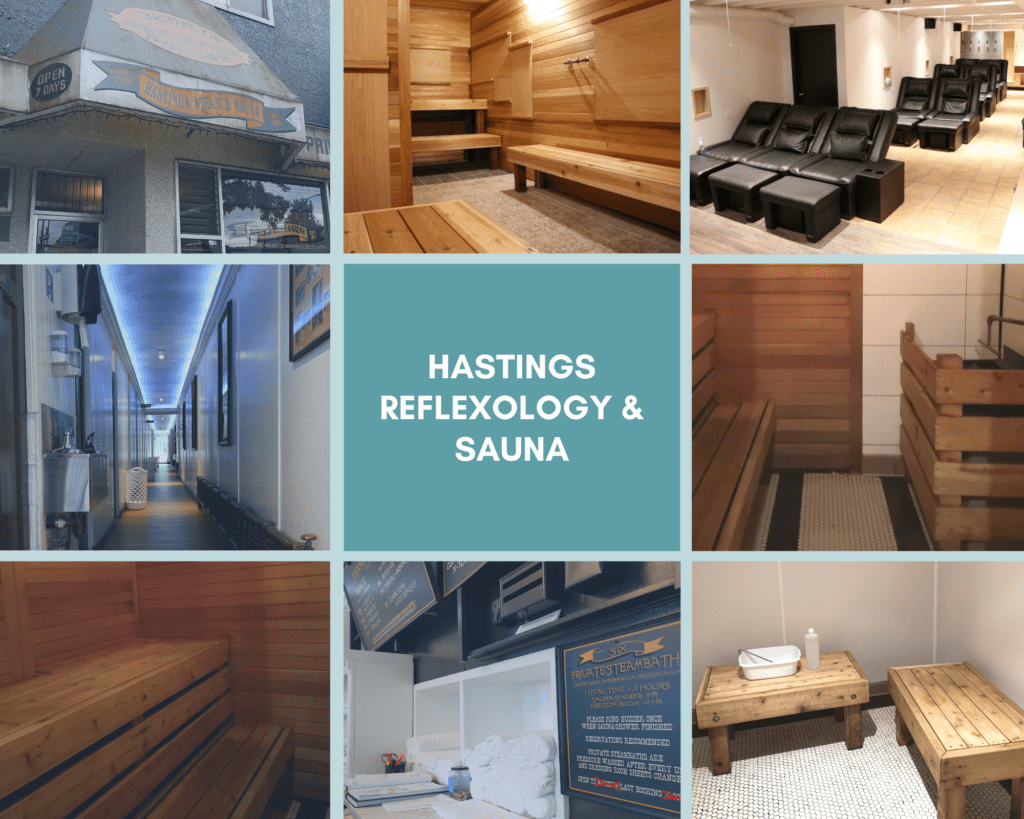 Address: 766 Hastings St. E, Vancouver, BC V6A 1R5 | 604-251-5455
Website: https://hastingssteamandsauna.com/
Rates:
90 Minute Private Sauna Session – $30 per person
Group Sauna access plus 50 min Reflexology massage starting from $79
View this post on Instagram
What Hastings Reflexology & Sauna offers
Public Sauna – The facility has both private and public accommodations and welcomes individuals, couples, and groups. Hastings Reflexology & Sauna is a clean and professional establishment, representing renovated bath houses since 1926. Since the 1970's, the public area located in the basement was men only. There is now a coed sauna in the basement Reflexology Center. Note: nudity is no longer allowed in these public rooms.
Private Sauna – If you want something more private, there are six cedar and tile sauna rooms that can suit individuals or small coed groups. Three are gas fired providing wet heat, and the others are electric powered for dryer heat. Other services include foot massage, body massage, reflexology, and acupressure in their newly renovated space.
JJ Family Spa – Sauna in Coquitlam (Metro Vancouver)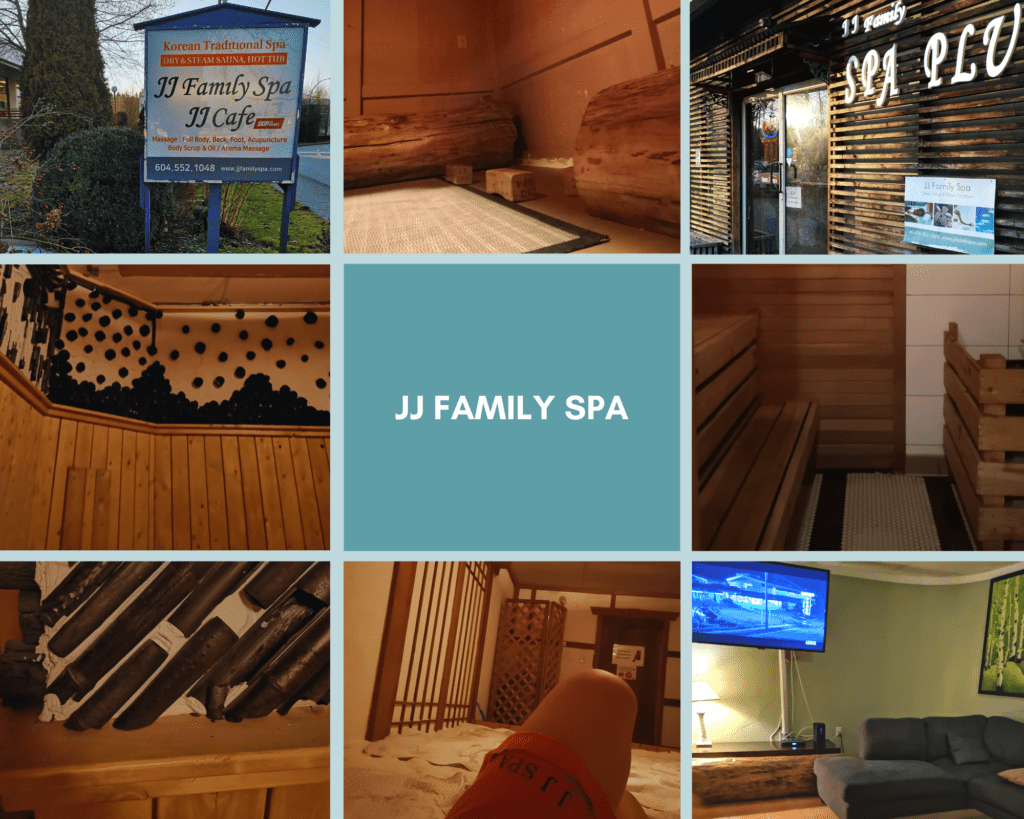 Address: 3000 Christmas Way, Coquitlam, BC V3C 2M2 | 604-552-1048
Website: https://jjfamilyspa.com/
Rates:
3 hours daily Admission – $19 per person
All 1 hour Body treatments include free Spa admission
What JJ Family Spa offers
JJ Family Spa is an authentic jjimjilbang in Metro Vancouver. A jjimjilbang is a Korean spa and is quite similar to a Japanese onsen or sento. It is a family atmosphere where people can relax in spacious heated rooms, bathe, socialize and get a variety of spa treatments.
Like most Korean saunas, JJ has gender separated and coed areas. Both sides will provide you with a deadly array of awesome rooms offering of Earth room, Charcoal room, Salt room, Saunas, Hot and cold tubs (Jacuzzi), and shower facilities. Additional services include Korean-style massages, facials and body scrubs at reasonable rates.
Salt Room – Mineral Salt has natural anion with excellent anti-biotic sterilizing power. It helps increase metabolism and recover the body from fatigue.
Charcoal Room – The most significant effect of Charcoal is the antioxidant benefit and restoration of the body.
Earth Room – Yellow soil raises body temperature, and through the continuous emission of artificial fever, it promotes physiological functions of the body. Also which has the power of purification and resolution, eliminates toxins from the body.
JJ Family Spa is a great place to relax, refresh, and enjoy a bit of Korea on this side of the Pacific.
Art of Sauna and Spa in Burnaby (Metro Vancouver)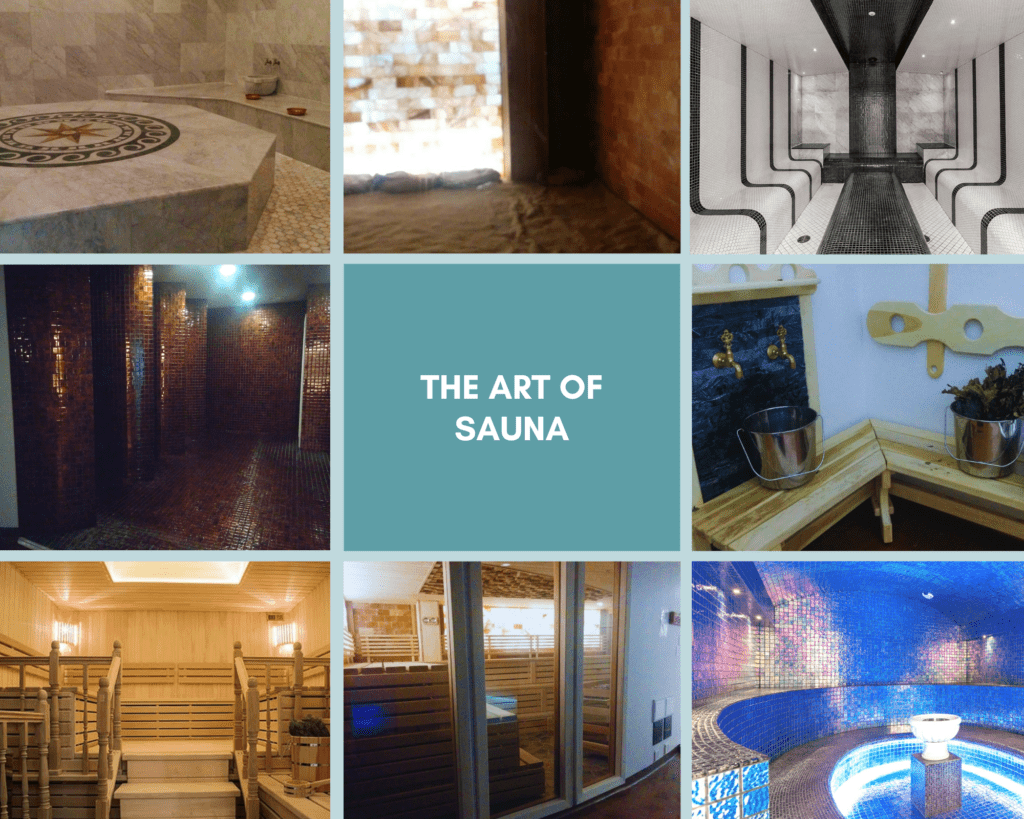 Address: 7818 6th Street Burnaby, BC V3N 4N8 | 604-484-7944
Website: https://artofsauna.ca
Rates:
2 hours Sauna Session – $47.25 per person
Body treatments include 2 hours admission
What Art of Sauna offers
The Art of Sauna and Spa opened its doors in November 2016 with the goal of introducing to Vancouverites and guests, different forms of public bathhouses – age-old traditions to cleanse, rejuvenate, revitalize, heal and de-stress our bodies. Art of Sauna offers 8 traditional saunas to experience under one roof. Not sure if you're in to a Finnish, Turkish or Russian style of steam? Maybe a Himalayan Salt or Dry Aroma experience would be more your speed? Take yourself out to Burnaby to visit The Art Of Sauna and sample them all.
Russian Banya – A super hot wood sauna with steam inspired by a traditional Russian sauna. As a rule, there are 2 or 3 levels (or shelves) with temperatures reaching 60-70°C on the bottom shelf and as much as 80-90°C on the top shelf. Humidity ranges from 70 to 90%. Important feature of the Russian Banya is the use of a special "venik", usually a bunch of thin dried birch branches with leaves; oak, eucalyptus or juniper branches may be added in, too. The venik is used to fan hot steam from above closer to the human body, as well as to… beat each other for better detox effect. No joke! And, in fact, the sensation is incredible!
Dry Finnish Sauna – The Finnish Dry sauna is made of linden and cedar. Salt brought from the Himalayas sparkles with iridescent natural colors, creating a unique atmosphere for emotional and physical relaxation.The main feature of the dry Finnish sauna is its heat emitted by hot stones. The temperature is usually around 60-70°C on the bottom shelf and 80-100°C on the top. As a rule, humidity is only 10-15%; hence the "dry" classification.
Dry Aroma Sauna – "Old Sauna" recreates the concept of the older steam rooms, which were heated with a chimney-less stove. It feels like you're actually inside a cabin! The "Old Sauna" is a "dry" type, with temperature reaching 70-100°C and humidity as low as 10-15%. Heat and occasional spraying of water onto the medicinal herbs produce a sweet fragrance and create excellent conditions for emotional and physical recuperation.
Turkish Hammam – The most gorgeous insta-worthy sauna room replete with marble floors and walls. It is recommended to stay in Hammam for no longer than 30 minutes for each session. As your body temperature increases, cool water from bowls are splashed over the body and face to bring your body to a neutral temperature.
Eucalyptus steam room – The aquamarine blue of the shimmering glass tiles create a harmonious and relaxing atmosphere that complements the healing effect of natural aromas. The temperature range of 50–70°C and humidity of 100% create a pleasant enveloping thermal effect for the visitors of this steam room.
Aromatic steam room – The Aroma Steam room is a modern combination of up-to-date technologies and ancient traditions. In this sauna, the steam is saturated with the essential oil of Lemongrass while temperatures are reaching 40-60C and a humidity level of 100%.
Roman room – Its arched ceiling and the mosaic picture of the Roman Colosseum, natural stone walls in the style of sandstone widely used in the Roman Empire, are designed to recreate the unique atmosphere of antiquity.
Himalayan salt room – An orange glow invites you to rest in this salty heated room. Staying in a salt sauna for 10-15 minutes improves blood circulation and cell metabolism, detoxing the body and restoring energy.
One of the most important things to remember when using a sauna or a steam room is to take it slow. Make sure to drink water before and after using a sauna. Remember to relax, take a deep breath, and enjoy.