Got an all-inclusive trip to Mexico or somewhere else in Caribbean but don't know where to start when it comes to packing. Knowing what to pack for an all-inclusive vacation can make your holiday perfect and help you to save too (those resort shops are crazy expensive).
Follow this guide and you're guaranteed to have everything you'll need for your next all-inclusive vacation.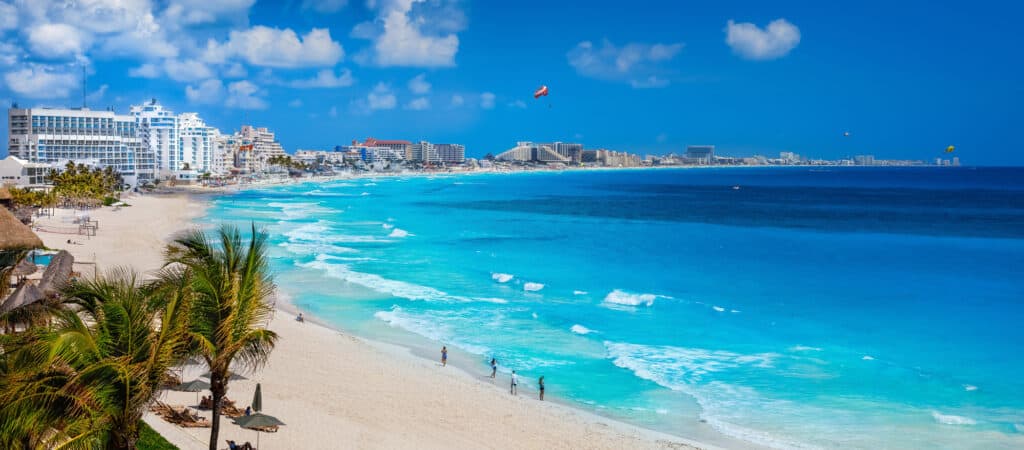 Here are my top tips about what to pack for an all inclusive resort vacation. 
*All of the products listed in this post are my recommendations and may contain affiliate links. A purchase/click through one of these links may result in a commission paid to us at no additional cost to you. Thank you for supporting my blog!
Packing Gear
Traveling with a carry-on bag can be a good idea for a trip to Mexico, especially during times when there may be issues or delays at the airport. Here are some reasons why:
Quicker security and check-in: With only a carry-on, you'll be able to bypass baggage check-in and move quickly through security.
More control over your belongings: When you only travel with a carry-on, you'll have more control over your belongings, and you'll be less likely to lose or misplace something.
Avoid potential delays: Carrying all your luggage with you can help you avoid potential delays caused by lost or misplaced checked bags.
More flexibility: With a carry-on, you won't have to wait for your luggage at baggage claim, which means you'll have more flexibility and can head to your destination faster.
Pack the essentials: When packing, you'll have to be more selective and pack only the essentials, you'll have to prioritize what you need and what you can leave behind.
Avoid baggage fee: Many airlines charge for checked bags, so traveling with a carry-on can help you save money.
However, it's important to note that there are some limitations when it comes to carry-on size and weight. Be sure to check with your airline for their specific rules and regulations. Most airlines allow either 7kg or 10kg of weight, and the most common dimensions allowed are around 55cm x 40cm x 20cm (or similar).
In summary, traveling with a carry-on can be a good idea in case of issues or delays at the airport. It also allows you to have more control over your belongings and flexibility, but it's important to check with the airline for their specific regulations regarding carry-on size and weight.

carry-on bag
. This item should fit nicely under the seat in front of you and be spacious enough to hold your valuables, electronics and passport.
Don't waste your personal item on a small purse that only holds a few things. Instead, think about bringing a large tote since you can always tuck your purse inside. Use a
beach bag
as your personal item. This way you'll have a beach bag to use at the resort to bring your items (sunscreen, book, camera) down to the pool or beach. Plus, beach bags can hold quite a bit and can squish down easily to fit under the seat in the plane.
You can carry your belongings around once you arrive at the resort if your room isn't ready (and also for the rest of your stay!). Make your carry on luggage work double duty!
Use packing cubes
Packing cubes are durable, fabric containers that stack neatly in your suitcase or backpack. When you arrive in your all-inclusive hotel, you'll have all your shirts, pants, socks and underwear separated into individual cubes. Their main function is to keep your bag organized and your clothes wrinkle-free, butt they can also save some space.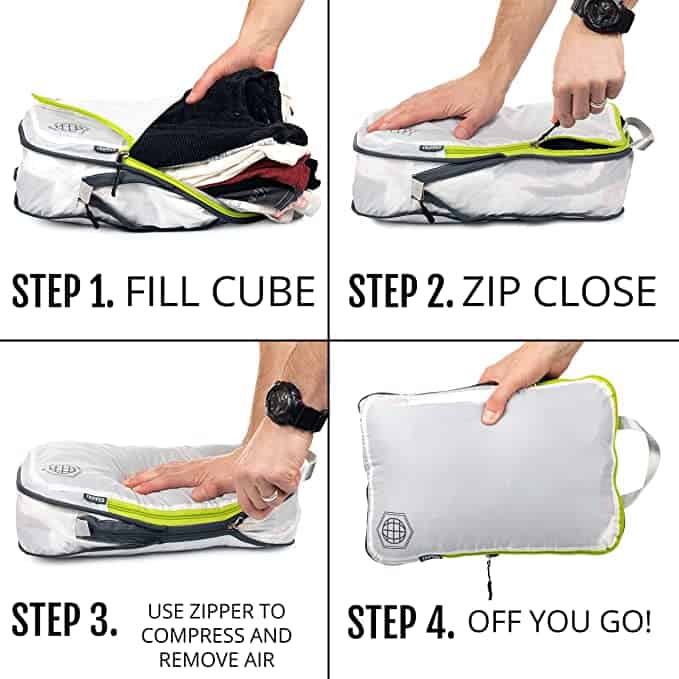 Compression packing bags are a packing essential for travel. These expandable cubes use a two zipper system to help eliminate the extra bulk when packing your luggage. The zippers literally compress your clothes together and eliminate wasted space. Keep different outfits in separate compression cubes and always be ready for what's next!
Things to pack for the beach & pool for an all-inclusive resort
When packing for an all-inclusive vacation in Mexico, there are a few key differences to consider compared to a regular trip.
List of clothing to consider packing for your trip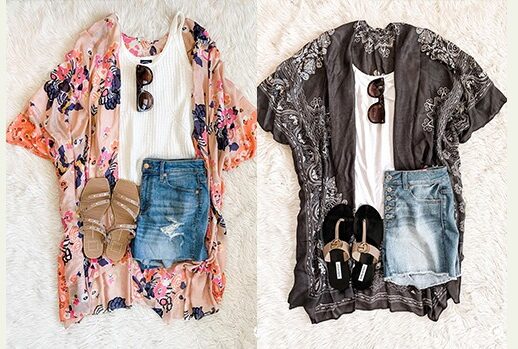 Less clothing: Since you'll be spending most of your time at the resort, you may not need to pack as many clothes as you would for a regular trip. You can pack a few outfits for different activities and events, but you likely won't need a different outfit for every day of your stay. Just remember, it's totally acceptable to wear items more than once… this will help avoid over packing!
Beach and pool essentials: Pack items that you'll need for lounging on the beach or by the pool, such as swimsuits, beach towels, and sunscreen. More bathing suits/swim trunks and beach cover-ups (Pack at least two or three swimsuits so you'll always have a dry one to wear). Mexico's sun can be intense, so make sure to pack a high-SPF sunscreen to protect your skin from sunburn.
Formal wear: Many all-inclusive resorts have formal nights where guests are expected to dress up, so pack at least one formal outfit if you plan on participating.
Beach/Pool appropriate clothing such as lightweight sundresses or shorts.
Beach/Pool appropriate footwear. Pack a comfortable pair of flip-flops to wear on the beach and around the resort. Bring a pair of sandals with a back for walking and restaurants, sneakers for gym and active excursions.
Water shoes if you're planning water activities.
Long pants. Bring 1 pair of long pants just in case there happens to be a chill at night or if you plan to attend a more formal event (some formal restaurants may require these for men). Pants are also great for protecting against mosquitos at night. For summers, in the face of humidity, go with loose and light materials like cotton or linen.
Leggings (Leggings are very useful if you plan on working out at the resort, hiking, or want something comfortable to lounge in on the plane ride)
Underwear, bras, undershirts socks,
Sun hat or cap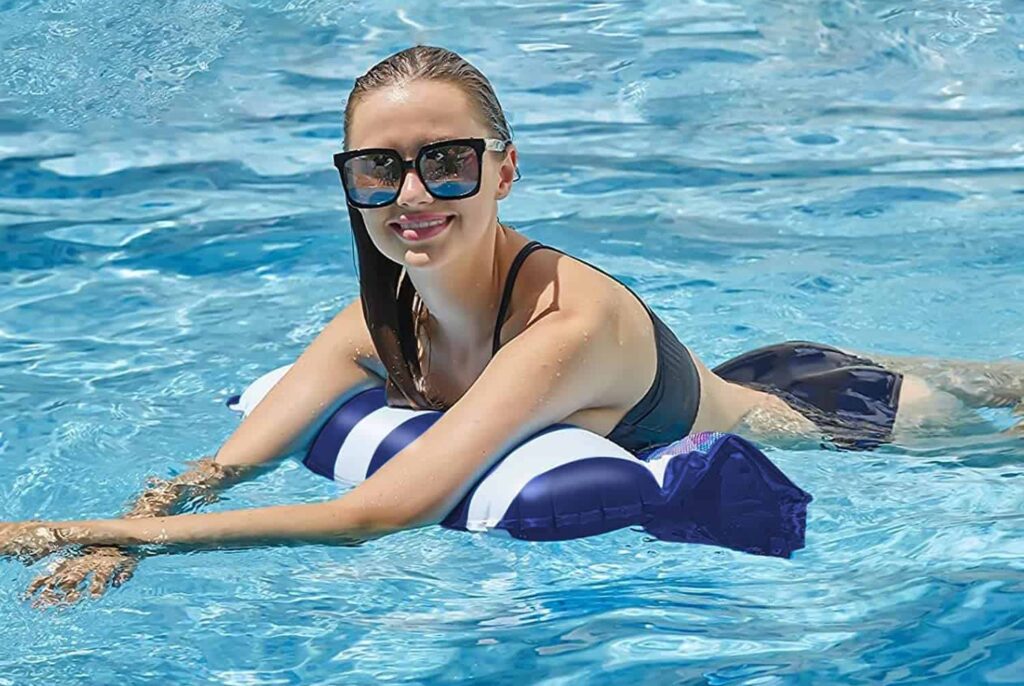 List of gear to consider packing for your trip
Waterproof case for phone/camera: Make sure your phone or camera is protected from water damage with a waterproof case.
Pool float or inflatable: Bring a pool float or inflatable to relax in the water.
Travel-size first-aid kit: Pack a small first-aid kit with essentials like band-aids, pain relievers, and antiseptic wipes.
Entertainment: Bring items to keep you entertained during your stay, such as books, games, and music.
Personal Medications: Don't forget to pack any personal medications you need to take during your trip.
Sunscreen mirror with a built in camera perfect to check if you're wearing enough sun protection.
Cash or Credit Card for tips and incidentals: Some all-inclusive resorts include gratuities, but others do not. It's always a good idea to bring a little extra cash or a credit card to cover tips and incidentals.
Water bottles: Pack a refillable water bottle as some all-inclusive resorts do not provide water bottles.
Travel-size toiletries: Pack your own toiletries, including shampoo, conditioner, soap, and toothpaste, as some all-inclusive resorts may not provide them.
Beach bag (collapsible; can also use this as your personal item on the plane if it's not too large)
Small purse or wristlet to carry around your phone and room key.
By following this packing list for all inclusive beach vacation, you'll be sure to have everything you need for an enjoyable and comfortable trip in Mexico. Happy travels!
And few bonus tips for visiting a spa at All-inclusive resort in Mexico.
Visiting a spa at an all-inclusive resort in Mexico can be a relaxing and rejuvenating experience. Here are a few things to keep in mind when planning a spa visit:
Appointments: Be sure to make spa appointments in advance, as popular treatments and services may fill up quickly.
Spa hours: Check the spa's hours of operation and plan your visit accordingly. Many spas are closed on certain days or have limited hours.
Spa attire: Many spas require guests to wear robes and slippers during their visit. Be sure to check the spa's dress code and pack accordingly.
Spa services: Review the spa's menu of services and treatments in advance, so you can decide what you would like to book.
Spa packages: Consider booking a spa package, which often includes a variety of treatments at a discounted rate.
Gratuity: Find out if gratuity is included in the cost of the spa services or if you need to tip the spa staff.
Personal belongings: Consider leaving valuables and jewelry at home or in the hotel safe, as they may not be allowed in the spa area.
Personal Hygiene: Take a shower or bath before visiting the spa, and make sure to remove any body piercings or fake tan.
Health condition: Inform the spa about any health conditions or allergies you may have.
Relax and Enjoy: Don't hesitate to speak up if you're uncomfortable or in pain during a treatment. Remember to relax and enjoy the spa experience.
Visiting a spa at an all-inclusive resort in Mexico can be a great way to unwind and rejuvenate during your vacation. By following these tips, you'll be able to make the most of your spa experience.